RMM (Remote Monitoring and Management) Software
Remote monitoring and management (RMM) software collects device information to check whether the endpoints used by employees are in a healthy state.  IT managers can use RMM software to visualize and manage all IT assets from one unified IT management platform.  With this software, management tasks on endpoints can be performed remotely without interrupting user activities.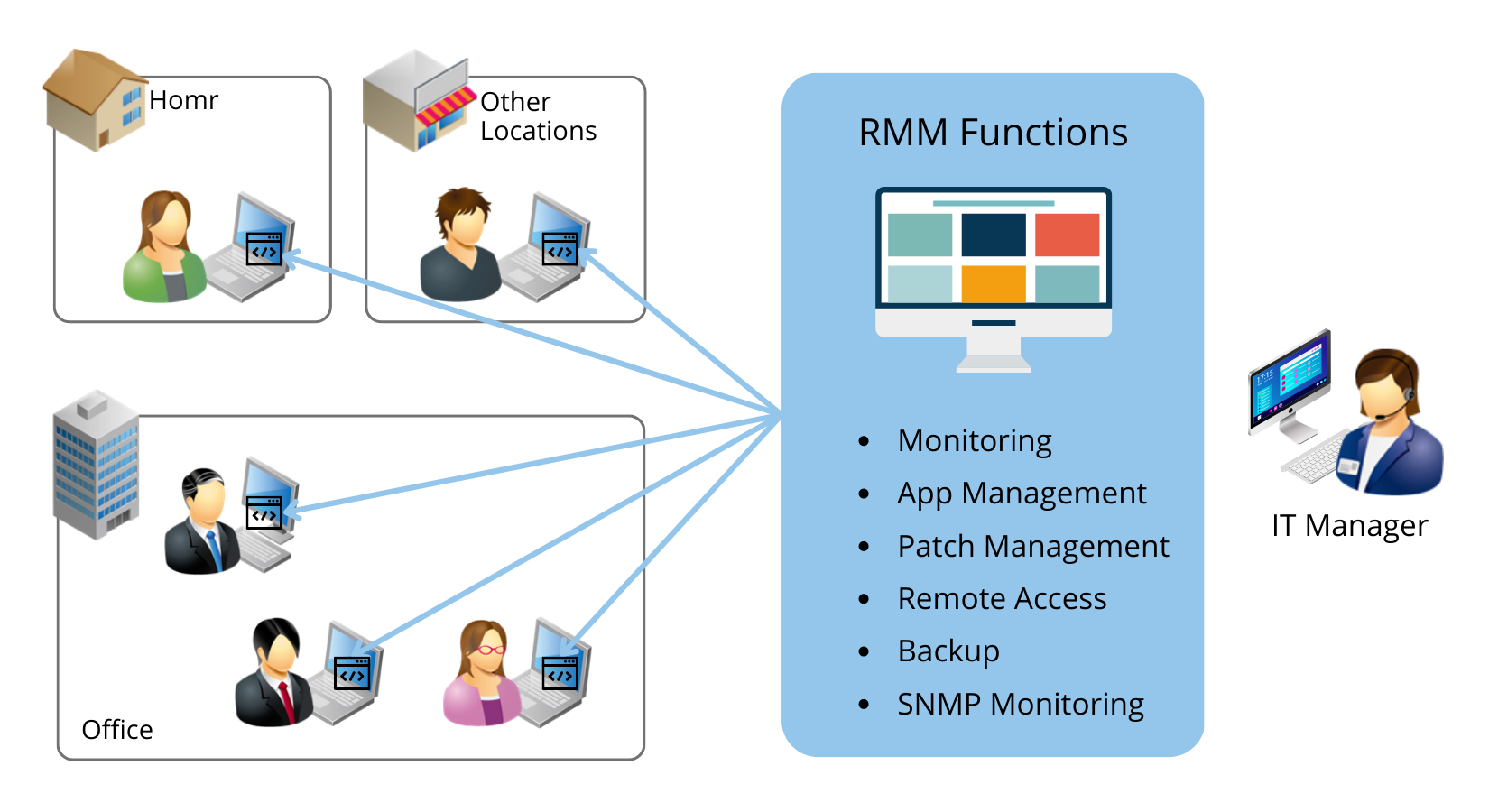 RMM Functions

Monitoring
You can constantly monitor the status of each endpoint (Windows, Mac, Linux server, workstation, laptop) and investigate further remotely from the RMM console at any time. By selecting a device from the device list, the console displays the most recent status and device information (serial number, IP address, uptime, etc.).

App Management
Automatically displays a list of software/application that are installed on company endpoints.  Gain full control of programs that you can install or uninstall or update on selected software/application remotely from a unified console, without disrupting the users' daily operations.

Patch Management
On the OS patch dashboard, you can check the OS patch status of all connected endpoints in a list. Additionally, remote patching can be performed from the same dashboard.  Reverting to previous patches for any reason can be done as well.

Remote Access
By remotely accessing the task manager, Windows Services, File Explorer, and registry of each endpoint from the unified console, you can terminate processes and services, execute commands from the command prompt, and directly access the endpoints  using Teamviewer/Splashtop. (Teamviewer/Splashtop will be included in the NinjaOne package.)

Backup
Data backup (optional) of endpoints and servers managed by RMM software can be obtained in the cloud. Centralized operation from the unified console not only prevents backup omissions, but also facilitates schedules and restores.

SNMP Monitoring
The unified console gives you single-pane visibility across all your SNMP devices - routers, switches, firewalls, printers, IoT devices and more.  SNMP monitoring capabilities include, real-time polling and monitoring, hardware performance data collection, discovery wizard, and netflow traffic data collection.
Benefit of Utilizing RMM
There is a lot that can be done with RMM software.  Visibility, Control and Automation will be the 3 key pillars to efficient and in-depth IT management.

Visibility
Gain visibility into all of your company's endpoints with RMM software.  It enables IT managers to instantly know, how many  endpoints have which version of OS installed, how many endpoints have not been patched yet, what software is being used on which endpoint, and other details such as CPU or RAM usage and remaining disk space just by logging in to the unified console.

Control
You can control and manage IT assets that are visualized on the unified console remotely.  By directly accessing each endpoint and operating it on behalf of the user, management tasks can be done efficiently without preliminary adjustments.  No more back and forth with the support team.  They can fully see and operate your device if needed.

Automation
By setting and scheduling OS patches and simultaneous application installation in advance, the RMM software can automatically execute the work for all target endpoints, and by setting the automatic sending of customized reports, You can automate tasks such as periodic confirmation and data acquisition without accessing the console.
What RMM software solves
The maintenance and management of endpoints, which are essential for employees' work, has become an increasingly time-consuming task for IT managers as remote work becomes a norm. Minimize business interruptions and implement stress-free IT management by utilizing RMM software that allows management tasks to be performed remotely on a single console.
IT Asset Management

- Extract the IT asset report requested by the head office using the report function of the RMM software.
- Extract the list of applications used in the organization using the report function and cross-check the number of purchased licenses.
- When planning a PC replacement, conducting a detailed examination of the target endpoint and planning the software migration based on the information collected by RMM software.
- Don't relay on Excel sheet, but check real-time information via RMM software.

Software Update

- Identify endpoints with vulnerable software, and automatically update the software through RMM software.
- List endpoints that have not been patched with the latest version, and automatically apply patches to endpoints through RMM software.
- Revert patch to previous version if needed.

Application Installation

- Installation of user-requested applications can be performed remotely from the RMM software by an IT staff with administrator privileges without interrupting the user activities.
- Distribute and install the company-wide application to each user endpoint all at once.
- Remotely uninstall apps that are not allowed to be installed.

User Remote Support

- In response to a support request from a user saying that "My PC is behaving strangely", the RMM software remotely accesses the PC and checks its status.
- When an endpoint being used by a user freezes, RMM software can deal with it by dropping a process remotely.
- In the case a user can't access a folder, or reach a website, IT staff can narrow down the cause by remotely accessing endpoints from the RMM software, isolating issues, making sure the issue is not on the endpoint side.
IT Helpdesk Service Supplement
An IT Helpdesk Service is a service where IIJA provides office IT maintenance and support on behalf of the customer's IT staff. By using the service with IIJA Remote Monitoring and Management (RMM) Service, we can provide a more detailed and faster helpdesk service.
NinjaOne RMM
IIJ America has formed a partnership with NinjaOne, headquartered in Austin, Texas, USA, to provide NinjaRMM and other RMM softwares.