Concept of the service

Network
Manage all communications on asingle network.

Security
Provide maintenance-free network and integrated security features.

Policy
Manage and enforce policies across all locations and remote users with an unified management console.
Service Features
Global Footprints
Several new PoPs will be opened every quarter, and facilities will be expanded to connect to the SASE platform service (CATO Cloud) from anywhere in the world.
Self-healing By Design
The SASE Platform service (CATO Cloud) automates all fault detection, failover and failback, resulting in reduced risk for any downtime to the service.
Best End-to-end Performance
Software in each PoP selects the best routes to maximize network uptime and end-to-end communication quality.  This feature improves the unpredictable network quality of the public Internet.
Service Image
Offices, data centers, cloud, and remote users connect to a single SASE Platform service (CATO Cloud).
Managed Service by IIJA
Simple installation, configuration, and operation.
Implementing the service
Simply connect the locations or users to the SASE platform service (CATO Cloud).
IIJA will ship the edge terminal(Cato Socket) to customer.
IIJA will configure the edgeterminal (Cato Socket) which enables stress-free deployment to remote locations (optional).
Configuring the service
Centralized configuration of connection and security policies for all remote users and edge terminals. All configuration is done remotely from the management console.
IIJA engineers will provide the initial configuration and configuration changes during operation according to customer requirements (optional).
Operation of the service
Check service usage and operation status in real time.
Event logs can be linked to external solutions such as SIEM.
Traffic analysis from past logs and regular reports can be provided per customer request (optional).
Service Menus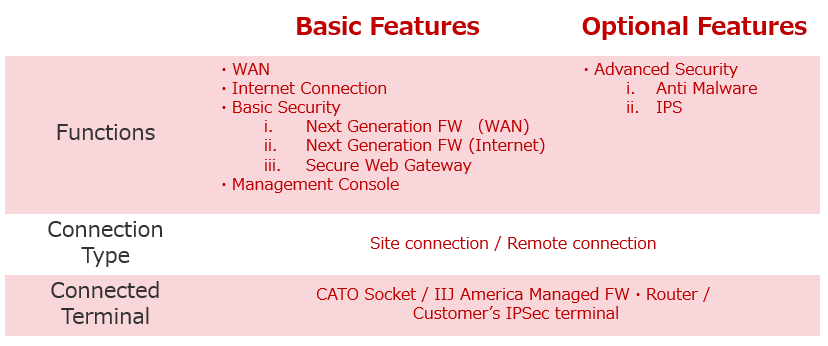 Self-managed Type
IIJA provides Cato Cloud license.
Customers handle the operation of the SASE platform service.
Full-managed Type
IIJA provides Cato Cloud licenses and IIJA handles the operation work of the SASE platform service
on customer's behalf.